14., 15., 16.12.
Brücken ins Schwarze
Werk X - Petersplatz Wien
Theatre Production by Andreas Jähnert (Aktionstheater Ensemble)
29., 30.11.
Brücken ins Schwarze
Toihaus Salzburg
Theatre Production by Andreas Jähnert (Aktionstheater Ensemble)
14. - 20.10
GLOWING current moods meets SCHÖNES GELAGE
Gallery Die Schöne, Vienna
11., 12., 13.10.
DANZA Y FRONTERA - Endangered Human Movements Vol.4
Tanzquartier Vienna
Amanda Pina / nadaproductions (Assistance)
5.10. 20:00
CURRENT MOODS - Duo Version - Residency Showing
Work in progress
NadaLokal Vienna
29.09.
GLOWING current moods
LAB, Seestadt Aspern
26.09.
LAB Factory Seestadt Opening Performance
LAB, Seestadt Aspern
21., 22.09.
Pelzverkehr Tanzfestival Klagenfurt
Theaterhalle 11
Performance Film & Live Performance with Thales Weilinger and Steffi Sternig
16.09.
SUBURBINALE International Filmfestival 2019
Endstation Seestadt Screening 
Groß Enzersdorf
16., 17., 18.08.
The Safari
Performance at Rostfest Eisenerz
Barbara Jernej
7.07.
GLOWING current moods (work in progress)
Home is where art is Festival
tba.
28., 29.06.
Brücken ins Schwarze
Landesbibliothek Kuppelsaal Bregenz
Theatre Production by Andreas Jähnert (Aktionstheater Ensemble)
7.06. - 9.06. , 17:00 - 1:00
Saint Genet "A modern history in a continuous present"
Like shapes in dreams
WUK performing arts, Saal
20.04., 18:00
Showing Current moods
Alpen - Adria Galerie Klagenfurt
4.04., 18:00
"City Dancer 2018" Presentation
Filmscreening Endstation Seestadt
Alpen - Adria Galerie Klagenfurt
Residency & Scholarship "City Dancer 2018", Klagenfurt 
16.03.  20:00
GLOWING current moods
Club UNTEN Linz
10.02. 18:00
Performance in Collaboration with Zuhra Hilal
Flucht nach Vorne Anniversary 
Reindorfgasse 38 Vienna
18.01., 19:00
GLOWING current moods
VFD Club London
9.12. 13:00
Herbergsuche 2.0
Performance Night with different Artists 
Idea: TanzRaumK
16. - 18.11. 21:00 
Saint Genet Flinch not and give not back
WUK performing arts
11.11. 19:00 
Entdistanziert
Lange Nacht der Bühnen Linz 2017
Cie. Tauschfühlung
LENTOS Museum Linz
15.09. - 15.10.
Die Kinder der Toten (Elfriede Jelinek)
Nature Theater of Oklahoma (US)
Filmshooting, Performance, Filmscreening
Neuberg an der Mürz
Steirischer Herbst
26.-28.10 & 30.10., 19:30
GLOWING current moods premiere
Artist at Resort Term 14
Tanz*Hotel Wien 
Zirkusgasse 35 1020 Vienna
19. - 24.09. / whole day
PARALLEL Vienna Art Exhibtion
Intervention, Performance
Performance: Giulia Di Guardo, Britt Kamper, Sophia Hörmann
Alte Siegmund Freud Universität / U3 Erdberg
28.07.2017, 21:00
Florentina Holzinger
Fight Club & Bolero Performance
Impulstanz Festival
Museumsquartier Vienna
15.07., 18:00
Home - Music & Art Festival
Installation, Performance, Interaction
Strombauamt Greifenstein
1. - 8.07.
Artist in Residence Program
Dance Arts & Performance Residency
Carob Mill Arts & Cultural Centre - Epimenides Crete
23.06., 19:00
Counter Parts Vernissage
Performance by Grazyna Roguski
Bäckerstrasse 7/8 1010 Vienna
25.06., 12:00 - 16:00
Film Workshop with Jessyca R. Hauser
SeeLab Seestadtstrasse 27/16 1220 Wien
Open to all dancers, performers, choreographers and artists from other fields
who want to learn the basics of film making, editing, cutting...
Workshop Fee: 40€
Registration: info@sophiahoermann.com
Space is limited for max. 10 people!
Bring your Laptop!
4.05., 19:30
Endstation Seestadt Screening
Tanztag.17 Tanzcoop Verein
Bezirksvorstehung Alsergrund
Interview and Portrait
Online Magazine Get Out
Austrian Dancer & Performer Sophia Hörmann - Moulin Rouge and the Mini Playback Show
http://getout-me.com/austrian-dancer-performer-sophia-hormann/
Interview by Marije Kruis (http://www.marijekruis.nl/spot-the-dot/)
Get Out Magazine based in Kuwait.
Contemporary Dance in Museum
Master Thesis by Mag. Ingrid Türk-Chlapek is online! 
30.03., 19:00
My Pony Is Over The Ocean
My Body Is Over The Sea...
IQ Gebäude Seestadt [U2]
Artist in Residency SeeLab Showing 
Live Performance: Elda Gallo, Anna Possarnig
Concept: Sophia Hörmann
Dramaturgy: Johanna Hörmann
https://www.falter.at/event/721741/my-pony-is-over-the-ocean-my-body-is-over-the-sea
HOOD - A new creative network platform
You can find my artistic profile here:
28.01., 13:00 - 15:00
SATURDANCE 
Open Danceworkshop for all Levels!
Contemporary Dance with Sophia Hörmann
Brunnenpassage Vienna
http://www.brunnenpassage.at/spielplan/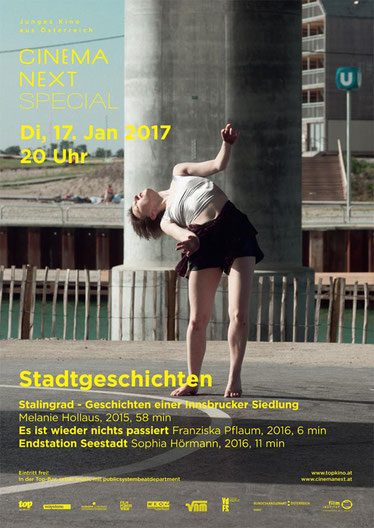 MENTORING PROGRAM 2017
I am very happy to announce that I am taking part in the 
mentoring program 2017 (bmukk) with Doris Uhlich as my personal mentor!
6.11. - 6.12., 18:00
Gregorian Chant
contemporary dance interpretation 
Basilika Klein Mariazell & Basilika Mariazell
Leitung: Daniel Mair
Choralschola der Wiener Hofburgkapelle
14. - 15.10, 19:30
El Conde De Torrefiel
Guerilla
Steirischer Herbst 2016
Orpheum Graz
26.09., 19:30
Endstation Seestadt screening premiere
In "Endstation Seestadt" the rawness of the architecture and it´s specific mood will be explored in a choreographic way. The four protagonists find and dedicate themselves in so called "in between" or "non" places. Through different perspectives in the scenes, the observer can choose between surreal illusion and reality. The body is the medium how we observe the space.
Schikaneder Kino, Raw Matters